The Integral Leadership Panel at Fielding Graduate University
Sergej van Middendorp
This January, at Fielding Graduate University's winter session, Jerry Snow facilitated the integral leadership panel. In this session, a group of doctoral students and alumni gathered around Russ Volckmann, Clint Fuhs, Aliki Nicolaides, Nancy Wallis, and Anne Acosta to listen to and discuss their integral leadership research and practice.
The session started with participants thinking about their current, pressing questions with regard to integral leadership by answering what they would like to read about in an academic journal. These questions then provided a structure for the introductions, which were then posted to relevant quadrants on an integral AQAL map on the meeting room's wall. After that, the panel introduced themselves by sharing what integral leadership means for them, what initiatives they are currently pursuing, what specific aspects of integral leadership interest them right now, and how they see integral leadership developing in the future. After the introductions, Jerry facilitated an interactive discussion between the panel and the participants that connected some of these questions to insights emerging from the panel's ideas. Russ Volckmann, who attended the meeting virtually, rounded up the session by reflecting on the topics and questions that struck a chord with him.
The panelists first provided us with a peek at their wide spectrum of engagement with integral theory. Clint shared some of the work he is doing on Essential Integral (the first part of the Core Integral course), a new digital course for integral life practice. Aliki mentioned how she would like to see integral theory moving into our temporal awareness of the moment, so that we can learn to better 'mind the gap' between our impulse and our conscious action. Nancy kept
us focused on the "so what", by sharing how she brings integral practice into a large health system, as well as creating a new applied research project to study her hunch that individual stage-related developmental strands follow the universal tendency to synchronize within the consciousness of an organizational system.  Anne shared experiences from her teaching, where she learned to align with differing levels of development and interest between different classes. Finally, Jerry suggested that we think of AQAL as a symbol, much like the Yin-Yang image of the way, or Tao.  AQAL points our attention to the elements and to the dynamic interchange between experience and theory.
The key theme that I noticed emerging from the discussions was the relationship between integral theory and our actual, undivided, experience. Many of the questions we had posted as part of the introduction ended up on the intersections between the four quadrants of Wilber's AQAL. This led Clint to comment that before the quadrants were formed, integral theory was fully focused on practice and method. He reminded us of three principles that form the basis for the emergence of the integral map: inclusiveness, emergence, and enactment. The quadrants, levels, lines, states, and types emerged from reflecting on practice and so they can also be thought of as mirrors for our experience. By using this mirror to alternate between reflection and practice, we learn to integrate reflection and practice in the moment. In this way, we can train ourselves to become increasingly aware of the tetra-arising of all facets of existence in every moment, and we can choose to better balance our being in the world with all aspects of integral.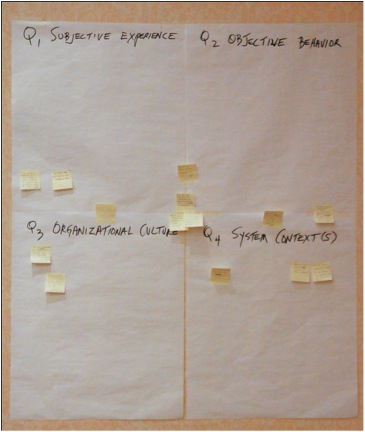 Many boundary questions on AQAL
With this metaphor for using integral theory, we looked at some of the specific situations brought forward by the participants. For example, it helped us make sense of how patterns of integral leadership may be similar between leadership in everyday communities and the well documented lives of great leaders. It also helped participants explore integral leadership in diverging themes like state politics, moral philosophy, and the measurement of organizational performance.
Russ, who had been absorbing all that was said, wrapped up the session with an extensive reflection. He put our themes in the context of the integral community, and pointed to work done that he saw resonating with our themes. What struck me about Russ's reflection was not its content, but its form. The nuanced, concentrated, and subtle thoughts embodied the experience I had of the whole panel meeting. In coming to the meeting, I held an unvoiced question concerning what this community would be like in terms of its own leadership. I was curious about how integral scholars would think about AQAL, and I must even admit to having some unconscious fears of becoming entangled in a discussion with colliding perspectives, or strict AQAL interpretations. I was relieved and happy to experience the nuance and subtlety I had hoped for in every turn of the gathering. To me, what stands out is that it seems that those who discuss integral leadership seem to live its promise in practice.
Finally, I am very pleased with the increasing presence of integral in Fielding's Human and Organization Development doctoral program. Even though Fielding was already associated with Integral in many ways, I think that the additional, physical, and virtual presence of this community of practice will help channel the integral vision into our work in productive ways, which I hope help us to make a better world.
About the Author
Sergej van Middendorp researches, develops, and consults on the leading edge of organizational improvisation, value networks, and Information Technology. He is the founder of Miles Ahead Business Jazz: www.milesahead.eu through which he participates in a network of long term commitments, aimed at making work in all its facets more beautiful, fun, and satisfying. He is also a PhD student at Fielding Graduate University. He wonders how we can design organizations that easily achieve a groove. His research is supported by six Dutch entrepreneurs: Kalo Bagijn, Roland Hameeteman, Johan Burgemeester, Herman van Middendorp, Ronald van den Hoff, and Charles van Gogh.