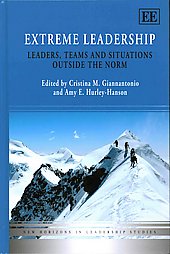 Giannantonion, Christina M. and Aky E. Hurley-Hanson (Eds). Extreme Leadership – Leaders, Teams and Situations Outside the Norm. Edward Elgar: Cheltenham, UK-Northampton, MA, USA. 2013.
David C. Wigglesworth
This is a collection of articles, as the title implies, that focus on "extreme leadership" – extreme   from obviously very different definitions since the leaders runs the gamut from Ernest Shakleton, Scott and Amundsen to Glenn Miller and Francis Ford Coppola. The bulk of the pieces relate to extreme leadership in geographical expeditions and hardship and difficulties in less than ideal situations. I find it almost obscene to consider the leadership of a swing band, even in perilous times or the idiosyncractic behavior of a movie director to the truly extreme leadership demonstrated by someone like Ernest Shakleton.
That said…