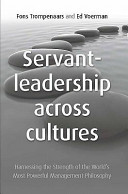 Trompenaars, Fons and Ed Voerman. Servant Leadership Across Cultures – Harnessing the Strength of the World's Most Powerful Management Philosophy. Infinite Ideas Ltd, Oxford, UK:2009. 190 pp.
David C. Wigglesworth
A quotation on the back cover of this book from Herman Whijffels of the World Bank, Washington,DC and Director of the Board for the Greenleaf Foundation states: This book is especially recommended for leaders who make decisions using their minds, but also want to speak from the heart. They dare to ask themselves: "who or what I do I serve with this decision?" The authors' conclusion is both positive and hopeful for the future; there are challenging cultural differences which can be overcome with the principle of servant-leadership. And thankfully people are not the same, but equal.
Servant-leadership, according to the book, emphasizes the leader's role as a steward of the organization's human, financial and other resources. One could say that it encourages leaders to serve others while maintaining focus on achieving results that are in agreement with the organization's values and integrity.
What the authors do in this book is to show how servant-leadership can work in differing cultural environments. They utilize a modified version of the seven dilemmas of Trompenaars early works i.e. leading versus serving, rules versus exceptions, parts versus the whole, control versus passion, specific versus diffuse, short term versus long term and push versus pull. They provide mini case studies of these dilemmas, offer routes to reconciliation and each chapter provides a resolution of the specific dilemma.
The last two chapters address how we can measure integrity and ways of benchmarking servant-leadership. The book also provides an online instrument that enables readers to diagnose different leadership value tensions as they occur.