Ginny Whitelaw (2012). The Zen Leader: 10 Ways to go From Barely Managing to Leading Fearlessly. Pompton Plains, NJ: Career Press.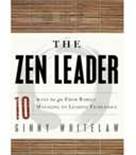 Ginny Whitelaw is a leadership expert and roshi (Zen master). She is the author of The Zen Leader and founder of the Institute for Zen Leadership. She has taught and coached in global leadership programs for nearly 20 years. Formerly deputy manager for integrating NASA's Space Station Program, she has a PhD in biophysics as well as a fifth degree black belt in Aikido. See
http://integrallife.com/integral-movement
The Zen Leader is a how-to book with the spirit of Zen. The table of contents tells us the key practices she is advocating. Let it be noted that in effective individual and leader development, it is one's practices that are at the heart of growing effectiveness. Here are the shifts that Whitelaw describes and provides activities for practice:
From Coping to Transforming
From Tension to Extension
From Or to And
From "Out There" to "In Here"
From Playing to Your Strengths to Strengthening Your Play
From Controlling to Connecting
From Driving Results to Attracting the Future
From "It's All About Me" to "I'm All About It"\
From Local Self to Whole Self
From Delusion to Awakening
The position Whitelaw take on leading is that "the leader is the one who goes first." I am reminded of an Integral Leadership Review cartoon with children lined up at a closed door behind which is a doctor and nurse with a syringe. Unaware of the fate to befall him, the little boy at the head of the line says with pride to the child behind him, "I'm first! I'm the leader!"
So despite her impressive credentials, Whitelaw is selling to the individual who would be leader. This is very much in keeping with the practices of the leadership industry, the selling of individual development as leader development. And this is as it should be. What is special about this book is that there is a recognition that whether or not one steps effectively, albeit temporarily, into a leader role is more than learning a skill or theory in a five day workshop. Rather, it is a lifelong individual set of practices.
These practices do not stand along, however. They are "upper quadrant" practices. These need to be married to ways of working and leading, collaborating and competing, creating and innovating, seeing the bigger picture and reducing unintended consequences within a culture and the its systems. This the part that get minimized in books that focus on the individual.