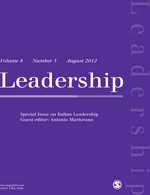 Antonio Marturano, Editorial, Leadership, 2012 8: 205.
http://lea.sagepub.com/content/8/3/205.citation
Antonio Marturano, ILR Bureau Chief for Italy and guest editor of this special issue, was the Editor of the August 2012 issue of Leadership, one of the leading academic journals on the subject. The material in this journal provides more in depth treatments of subjects also found in this special issue. He states,
Italy has had an amazing fabric of leaders and ideas on leadership even before the Romans: indeed, Italy not only provided all kinds of leaders (from Machiavellian amoralist leaders to saint and value centred leaders), but also many Italian scholars have helped us to think about leadership. From Marc Aurelius, Machiavelli and Gramscito Agamben today, Italian scholars have provided tools with which to understand leadership phenomena. On the other hand, Caesars, the Church, the Renaissance, the Mafia, Mussolini and Fascism, leftist movements in the 1970s, the Agnelli Family and today's Berlusconism provide key features useful to understanding leadership, leadership culture, followership and leaders' behaviours.
Marturano brings his multidisciplinary understanding of leadership to the issue with the support of other Italian academics. Issues of ethics and cynacism, the development of a leadership culture based on consensus across classes, the cult of personality, elite theory, leader-member exchange theory – all serve as elements in the foundations of Italian approaches to leadership. American academics have contributed, as well, as in this issue of Leadership that features Nicholas O. Warner and Ron Riggio (a member of ILR's Integral Leadership Council) examining Italian-American leadership through their representation by Hollywood.
Other authors focus on servant leadership, the history of the papacy, a social psychology view of transforming followers into leaders, leadership in fascism and the corporate state in Italy, and studies of Italian culture and leadership, even as represented in Italian fiction. Marturano concludes,
Italy, with its rich history, did not just provide an excuse to test and better understand the most popular leadership theories and themes; it was also an exercise to remind us that those who do not learn from history are condemned to relive it. The resulting volume we are offering to the reader is so rich and diverse that I hope it will stimulate further studies in the field. Many leadership aspects in Italian history were left out: the Renaissance, the Opera, the postwar economic boom with its 'la dolce vita', to name but a few, are phenomena which have had an enormous echo not only in Italy and still are studied in many fields. I believe this volume (which is still a drop in the ocean) has contributed to shedding a new and diverse light into the beautiful discipline–talking about humans–that is leadership studies.
What I find exciting is that efforts such as this journal represents, as does this special issue of ILR, are making it very clear that not only is the practice, study and development of leadership about individuals, cultures and systems, but about history and our evolution in human societies.