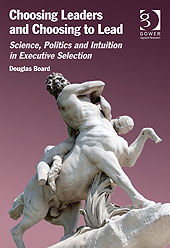 Douglas Board. Choosing Leaders and Choosing to Lead: Science, Politics and Intuition in Executive Selection. Burlington, VT: Gower Publishing Company, 2012.
It is not often I pick up a book with a Foreword by a baroness, Baroness Prashar of Runnymede. This baroness earned her title by serving as the First Civil Service Commissioner in the UK and other public service. Her assessment is that Douglas Board brings some fresh perspectives, long overdue, in the world of executive selection. Board, born in Hong Kong and clearly a product of the long arm of British imperialism showed his mettle in his wo0rk in executive selection for many years and mo9re recently in research as an academic.
The baroness sums up key points in this book as
we often choose people badly for senior roles;
if we think about this carefully, that outcome will surprise us less;
today;s good selection practice at middle and front-line organisational levels will not be enough to change things; but
change at the top is necessary and possible.
Board cites many problems and failures of individuals who have been selected for executive roles and seeks to offer an approach to improving how we choose individuals for senior executive roles. Much of the problem has been that those who have been involved in the interview and selection processes have been inadequately trained. Intervie2wi9ng, for example, has low reliability and introduces high levels of bias and distortion. Based on his own experience, he notes,
Eschewing extremes, my experience has been that in all the main stages of top-level recruitments, from the identification of requirements through selection to negotiation with candidates, most months I encountered things which in many organizations would not have been acceptable in less senior recruitments.
Effective selection requires both skill and intuition. And more. The author turns to philosophy, more specifically DesCartes, Wittgenstein and Bourdieu. It is the latter's work related to games that is his primary focus in order to comprehend the underpinnings of human thought an action. This supports a shift from DesCartes monologism to the more dialogistic approach of Bourdieu, where
…we are invited to explore the way we are in the world, and whatever we are doing, including thinking, in terms of being in play with others, in politically contoured fields of possibility, where the full truth of what we are doing lies always outside our grasp, whether we immerse ourselves in the game or stand aloof.
Here,
thought is not severed from action but deep[ly dependent5 upon it; mind is not severed from body; person is not severed from person; and subjectivity is not severed from objectivity, but both are required in an unending effort to produce more insightful account of what we do together.
The implication of this for executive selection is that there is a clearer connection between science, politics and intuition in the process of choosing. This, in turn, deepens the connection between skills, belonging and identity. These need to be understood in the selection process. The remainder of the book discusses new approaches to the selection process.