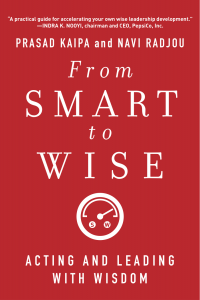 Prasad Kaipa and Navi Radjou. From Smart to Wise: Acting and Leading with Wisdom. San Francisco: Jossey-Bass, 2013.
Russ Volckmann
In the spirit of full disclosure, the reader should be aware that I have known one of these authors for decades. Not only have we worked together with corporate clients and professional training groups, but I know his parents, his wife and his children well enough to hold them deep within my heart. He has proved to be a brilliant and passionate consultant and coach, son and parent and friend whose self-reflection has never ceased, leading him to deeper and deeper wisdom.
That being said, I will share my perspective on this long overdue book, one that reflects the scope and depth of his work with a model and framework that will be quickly grasped by managers and executives in the business world. They will apply its principles and opportunities for insight and implementation to the degree that they are committed to their effectiveness in manager and leader roles, as well as to living a healthy and balanced lifestyle.
The authors have identified two ways of being smart in business. They see these ways as being the ends of a continuum with wise managing and leading in the middle. On one end, represented by the color blue (functional smartness) and red (business smartness).
"Functional smartness is grounded in issues that are concrete, tangible and tactical – and when this becomes well-developed it leads to operational and execution smartness… business smart leaders are driven by the desire to do bigger and better things and are not easily intimidated by risks… [They] tend to have a visionary perspective and are strategic in their approach as they focus on entrepreneurial growth opportunities rather than bottom line profitability."
Each of these is a foundation for "smart leadership that goes beyond being a smart or intelligent person to applying one's smartness through action for moving oneself forward for primarily personal growth and success." It can develop into wise leadership: "leveraging smartness for the greater good through reflection, introspection and ethical clarity (in contrast with smart leadership, which is the application of smartness and action in service of personal gain.) Wise leadership occupies the center of the continuum. All of us have different ratios of smartness and wisdom though we might prefer to use more of one than the other depending on where we are on the smart to wise spectrum.
This book is about moving from smart to wise leadership, your own assessment (including online) of where you stand in relation to these three positions on the continuum. The authors have identified six capabilities (based on their research as well as on interpretation from wisdom literature) and described how leaders behave from each state – business smart, functional smart or wise leadership.
Having researched hundreds of historic and contemporary wise leaders and consulted with dozens of senior managers over the past two decades, authors found that most leaders—who are anywhere on the smart to wise spectrum —rely on the same leadership capabilities. They are:.
Perspective: The leader's worldview
Action orientation: Why a leader takes action
Role clarity: How a leader identifies with his/her role
Decision logic: What factors a leader uses to decide
Fortitude: How a leader determine when to hold or fold
Motivation: What inspires and drives a leader's actions and decisions
It is not the purpose of this review to go into each of these in detail. Suffice it to say that these are presented throughout the book with interesting stories about business leaders, some you would recognize, some not. I would point out that Prasad Kaipa has consulted internationally after a period with Apple University. His client list has included Boeing, Ford, Xerox, BAE Systems, Disney, Ranbaxy and a number of other companies in the United States, UK and India. He has been a coach for over 110 C-level executives in Global Fortune 500 companies. He interviewed the Chairman of India's largest bank (State Bank of India) for the January 2011 Integral Leadership Review special issue on India. For the past few years, he spent more time in the Indian School of Business (ISB) in India developing a center for leadership, innovation and change using an integral approach.
Navi Radjou is co-author of Jugaad Innovation: Think Frugal, Be Flexible, Generate Breakthrough Growth. Navi is a strategy consultant, also a Fellow at Judge Business School, University of Cambridge, and a faculty member of the World Economic Forum. His clients have included BT, Fujitsu, GM, Hitachi, IBM, Infosys and Wipro and has been featured in Wall Street Journal, Business Week, Financial Times, Economist and others.
Both authors live in the Silicon Valley.
The book is well written and presented for a business audience though the material is integral in nature and could be applied to any leadership context. The stories and narratives are interesting, often original, and informative. Given the culture of business and business writing I have no complaint about this book. In fact, I very much appreciated the insights it offers. Any issue that I have with it is mostly with the distinctions among terms related to leadership. For example, the section on role clarity, while useful, is somewhat reductionist of the important notion of role and does not take into consideration the diversity of expectations stakeholder have of those in manager and leader roles. It only addresses identity and role clarity from a psychological perspective. As early as the 1970s Katz and Kahn were expanding on the literature of roles in organizations and included concepts of role ambiguity and role conflict. Nevertheless, it is unusual in a business book to find the question of role treated seriously at all. This book is an exception.
My second concern is that, like so many books in the field of leadership studies and models and advice for those seeking to be effective in leader roles, the important role of culture and systems is underplayed. However, it is rare to find a book on leading and
Here is a fresh, intelligent, useful framework for self-reflection and development that can act as an awareness enhancing and developmental path for those who seek to be effective in managing and leading in today's business organizations.