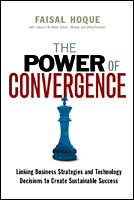 Faisal Hoque, F. The Power of Convergence: Linking Business Strategies and Technology Decisions to Create Sustainable Success. New York: AMA, 2011.
Felisa J.Parris
Faisal Hoque, a former executive, is the founder and CEO of BTM Corporation. The BTM Corporation specializes in convergence transformative practices and best practices research. In 2008, Hoque was christened "Mr. Convergence" by CIO Quarterly magazine and named one of the top most influential peopled in technology. In The Power of Convergence: Linking Business Strategies and Technology Decisions to Create Sustainable Success, Hoques highlights his experience and expertise by providing a wealth of information about the power of convergence and the integration of business processes. Hoques' research is a collection of research with more than a decade worth of the failures and successes of over 2000 corporations. The sample includes data about multiple small and mid-sized sectors from government agencies, social enterprises, and other organizations. Hoque's company is the only global research think tank that is exclusively focused on the convergence of business and technology.
Faisal Hoque's book was developed with contributions from three other contributors. Hoque launches the discussion with clarion call to organizations that value the strategic integration of business and technology. This is not just a step-by- step how to guide; it is reference book for business leaders who strive to maximize business technology frameworks. The book powerfully unpacks an "operational blueprint for "categorizing, analyzing, rationalizing, and managing" the right technology to achieve business goals. (p. 29) Hoque writings echo the sentiments of and earlier analysis of the power of union of technology and business that was written in 2008 by Bill Gates. Gates reported similar comparisons in Business@The Speed of Thought: Using a Digital Nervous System. During the tech boom, Gates also produced detailed a blueprint for business managers who desire to provide creative innovation in business technology integration. Both authors strongly believe that effective and efficient technology management is strongly linked to sustainable business success and is positively correlated to superior economic performances. The argument centers on the integration of business technologies. Gates quotes Alfred Sloan in his claim:
The big work behind business judgment is in finding and acknowledging the facts and circumstances concerning technology, the market, and the like in their continuously changing forms. The rapidity of modern technological change makes the search for facts a permanently necessary feature. (Gates, 1999, p.3)
Hoque concurs and supports Gates' earlier perspectives by citing his proprietary Business Technology Management (BTM) Framework. Hoqus makes a bold claim – with vivid organizational examples. He states when organizations implement and execute the BTM framework they will experience the following:
Replace trial –and- error business technology models with strategically grounded approaches
Unify decision making across all leadership and project teams
Institutionalize collaborative management behaviors and organizational construct
Examine value indicators through a variety of financial indices
Realize substantial improvements in execution, risk control, and profitability
Access guidelines and methods to progress towards a superior future state
Hoque supporting evidence and claims are described in detail in eleven chapters. He asserts, "Convergence can be achieved through certain organizational "constructs," or management behaviors, which have been identified through research and practice.
In chapter one, Hoque explores the gaps between business and technology. He states that business executives play battleship all the time and that "victory- or success- comes when all of the opponent's pieces are sunk". Hoque describes the practice as a lack of regard for properly allocating resources and managing execution. Houque says, "They throw millions of dollars at new business models….without clearing defining their targets, properly allocating resources and managing execution" (p.3). These critical business mistakes are deadly, says Hoque making it very difficult – if not impossible to achieve the power of convergence.
Chapters 2 and 3 include information about achieving convergence and the effects on financial performance. He cites that when organizations clearly define their targets and focus on prioritizes the business model – and use technology as a support structure, organizations achieve business/technology convergence that results in sustainable competitive advantages. Hoque claims that the best managed organizations emerge when the business strategic model technology goals are completely integrated. Hoque research findings strongly suggests, "Leaders who place a focus on the convergence of business and technology disciplines with their companies attain far more success than those who continue to treat them as isolated function" (p. 52).
Part II (Chapters 4-6) describes convergence from a practical perspective. This section provides an organizational layout of successes and failures of business models. The real world examples lend credibility to the research findings in the Hoque's framework. Through the writings, it is clear that organizations that effectively manage business and technology strategies experience competitive advantages. In chapters, five and six, Hoque provide glimpse of the inner workings of the public sector and the government sector. In this chapter, Hoque carefully and cautiously explores challenges that exist in balancing the need for technology with existing business models. The business case examples in the chapters, includes steps for implementing sustainable model(s) are included for further explanations.
Part III (Chapters 7-10) explores the impact of the transformation of convergence. Hoque's model emphasizes the "Transformation Triangle". The concept is labeled "a methodology that enables enterprises to recognize the changes they need to undergo and then manage their own makeovers- Business Agility, Sustained Innovation, and Operational Excellence. Houqe believes that these principles, independently, or in concert is the foundation for convergence transformation. The section lays the foundation for implementing Hoque's BTM framework and identifies the critical barriers in the execution process.
Chapter 11 summarizes the thesis of the book- the need to integrate and link the business models with the technology with an emphasis that that technology should not be used for the sake of technology. Through the integrated concept of convergence, "organizations shed inefficiencies in favor of collaboration, shared goals, and focused outcomes". (p. 204) Hoque concludes  chapter eleven by reissuing the clarion call as he asks, who will accept the challenge to fully integrate the concept? Hoque is convinced that the future economy will be dominated by fully converged enterprises that will capitalize on the mistakes and inefficiencies of their nonconverged competitors
Hoque's writings are a powerful combination of research, case experiences, and business expertise. The book is a great read for anyone who is interested in understanding the relationship between business models and technology. The book is also a great resource for business leaders who are exploring the effectiveness of their existing business/technology models. The strength of the book is the wealth of information included about the BMX model, coupled with current examples of the failure and successes of the implementation processes. Hoque describes the convergence concept as extremely complex concept. Yet, he delivers a clear, concise research presentation- that is the main strength of the book. A minor critique is that Hoque saves the perspective on individual leadership until the final chapter – weaving the leadership perspective in the early chapters would have provided readers with a greater understanding about the impact of business technology integration.
Additional information about the cross-functional governance constructs would have provided the readers with more depth about converged enterprises. Hoque's writings are very convincing – The power of convergence is strongly linked to sustainable success.
Reference
Gates, I. W. (199). Business @ The Speed of Thought: The Digital Nervous System. New York: Warner Books, Inc.
About the Author
Felisa Joy Parris is a doctoral candidate in the Interdisciplinary PhD program in Business, Education, and Leadership at Marquette University in Milwaukee, Wisconsin. Additionally, she serves as a graduate academic advisor /administrator at Marquette University. She provides academic advising to students in the Master's Program in the field of Leadership and Public Service, with specializations in Non- Profit, Criminal Justice Administration and Sports Leadership. She serves on numerous college and university committees. She also serves as an adjunct instructor in the Marquette Honors program (Undergraduate Faculty) and in the College of Professional Studies (Graduate Faculty). With a solid background in Business and Leadership, Felisa has held several leadership roles in the corporate and non-profit community. Felisa's research interests include academic achievement gaps, business and higher education divides, educational equity and access, and first generational college students in PWIs.
felisa.parris@marquette.edu