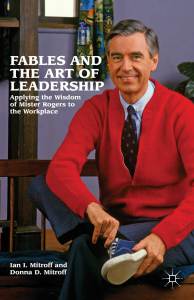 Ian I. Mitroff and Donna D. Mitroff. Fables and the Art of Leadership: Applying the Wisdom of Mister Rogers to the Workplace. New York: Palgrave Macmillan, 2012.
When I see a book written by Ian Mitroff I pay attention. The father of Crisis Management, co-author of Spiritual Guide to Corporate America, critic of the dominance of disciplines in academia, and author of (I believe) the first serious book influenced by Ken Wilber's work in the area of management – Stakeholders of the Organizational Mind – Ian Mitroff has never ceased to impress me with his work.  Now, he and his wife offer up Mr. Rogers as a model or source of wisdom about leadership. I am of a generation that did not have Mr. Rogers around and the rare occasions when his image passed before me on a television screen I was readily dismissive of this "children's program."
Jeannie, my wife, remembers him better.She most appreciated Mr. Rogers unconditional acceptance of children, of people. The Mitroff's have translated this and other aspects of Mr. Rogers' work into seven key principles:
Connect
Concern
Creativity
Communication
Consciousness
Courage
Community
The Mitroffs have organized their book about these themes and state,
The seven principles are the key to making healthy and productive workplaces that can compete successfully in the global economy. Our argument is that without practicing and deeply embodying the principles, leaders will not grow and develop, and organizations, as we know them, will not survive. (3)
Each chapter takes one of Mr. Rogers stories, like the Bass Violin Festivfal or the Story of Planet Purple and explore the seven principles. as they relate to managing, leading and organizations. Principles are offered in relation to these stories. In the case of Planet Purple,
To attain the illursion of complete control, one must give up uniqueness; everyone must think, act, and be the same.
One must be disconnected from one's body and feelings…
One must believe… that only thinking matters.
In reflecting on leadership, they note that old-time hierarchical organizations must go.We can remember Mr. Rogers' principles that everyone is a leader:
If you could only sense how important you are to the lives of those you meet, how important you can be to the people you may never even dream of. There is something of yourself that you leave at every meeting with another person.
– Fred Rogers
At the heart of leadership is lifelong discover and learning. This along with other principles such as "Love life and love what you do," and how communication is at the heart of leadership provide a summary of Mr. Rogers' philosophy applied to leadership.
This is a fun, insightful read. For most of implementing this in our lives it will take practice aided, perhaps, by the memory of Fred Rogers.