Integral Workshop on December 18-21 at the Center for Development of Entrepreneurs (Sberbank) in Izhevsk.

Eugene Pustoshkin
I was invited to come to Izhevsk on December 18-21, 2014. There is a group of people who work on Integral development of this city and promoting ideas of holistic vision as applied to urbanism. The group is spearheaded by Lev Gordon, the President of Gordon Foundation and a Harvard Business School alumnus with extensive experience of living in the West and working at the top corporate level. I met him first in December 2008 in Moscow, when I was collaborating with one organization's executives in installing an Integral worldview into the company's top level. Lev became interested in Ken Wilber's AQAL Integral vision, and quickly adopted it to his own practice. Lev is one of the most advanced leaders I have ever met in terms of his states and stages competencies.
Since 2008 we continued meshworking, and a couple of years ago we completed a project of translating Marilyn Hamilton's book Integral City to Russian (and published it as an ebook); I was its translator. The book was published by the Ipraktik book publishing initiative and funded by Gordon Foundation. Then, a bit later, auspicious circumstances led Lev and his colleagues to forming a non-profit organization called Association of City Development (Assotsiatsiya Razvitiya Goroda, ARGO). Basically, this was how the natural seed-idea of creating a center of integral city development unfolded. ARGO's goals are to support city development over a long term trajectory (many years and, hopefully, decades to come), and its activities include simultaneous multilevel meshworking across citizens, non-profits, businesses, and city, regional, and federal administrations. ARGO works closely with Marilyn Hamilton (who came to Izhevsk in May 2014 for the UrbanFest forum, co-organized by ARGO and its partners), and I regularly consult Lev and his team on various perspectives related to the Integral vision.
In Izhevsk I offered three workshops on the three consecutive days. The first workshop on Thursday was intended to be a general introduction into our bigger workshop on Saturday on the topic "Being in the Center of Cyclone, or How to Flow in the Rapidly Running Currents" [of this transitional and, in many aspects, critical period in time]. I introduced basic notions of the evolutionary spiral of development and quadrants and offered an introduction into a very special method of multidimensional interaction practiced in the Holoscendence approach that includes cultivating continuous meditative awareness through all sensory and subsensory channels/modalities in the process of communicating with other people and large chunks of information.
On the second day of my visit Lev and I conducted an open dialogue with the core members of the Public Chamber of Izhevsk. It was a more in-depth conversation which included my presentation of the major aspects of the Integral Framework (states and stages) and Holoscendence to the leaders of Izhevsk's civil society. The group included a civil rights advocate, several entrepreneurs, a music artist, a head of a society that assists blind people, and some others. Their interest was enormous, because understanding states and stages helped them to become more aware about the already-existing patterns that they encounter while dealing with dozens individuals and groups of hundreds and thousands people on a daily basis. They became especially interested in some aspects of Holoscendence which include cultivating a special kind of holoscendent deconcentrative awareness which is effective in dealing with intense flows of information and people. We also discussed the matters of clinical psychology and the importance of intuitive understanding of psychopathology and how one can strategically deal with difficult groups of people while appreciating the gifts they bring.
On the third day, Saturday, Lev and I co-facilitated a bigger workshop which, again, gathered about three dozen people of different walks of life: entrepreneurs, social activists, members of the Public Chamber and city administration, housewives and so on. We combined lecture-presentation with dialogical exercises and Q&A sessions. It was an intense 5-hour immersion (with a 1-hour lunch break in the middle) into AQAL Integral Framework. We focused primarily on elaborating the importance of quadrants (first, second, third-person perspectives), levels, and states of consciousness. People asked their questions regarding how to relate this theory to their lives, and we tried to provide our integrally informed answers.
In the end, again, I provided a short introduction into a basic holoscendent multidimensional meditation/interaction practice. When I asked people to share their experiences from the meditation, some noted that they experienced the state of profound stillness amidst other people which they were able to share with others who were present in the room. It seems that there is a growing demand and need in integrally informed approaches of active contemplation that can be practiced with eyes open amidst daily social activities so as to be able to remain in the center of cyclone during various sociocultural and personal cataclysms. Such approaches are even more beneficial if they are integrated with the understanding of multiple worldviews, stages and states of individuals and societies.
Appendix: Instagram Photo Report
From my personal Instagram: http://instagram.com/turiyatita The photos and text were published on December 23, 2014.
Last Thursday in Izhevsk I gave a short workshop on Integral Framework and Holoscendence for the Association of City Development (ARGO) and its partners, friends, staff as well as Izhevskian entrepreneurs, social activists and citizens. ARGO applies Ken Wilber's Integral framework and Marilyn Hamilton's Integral City approach towards its projects, uniting the resultant long-term strategic vision with its own unique competencies and pragmatic strengths.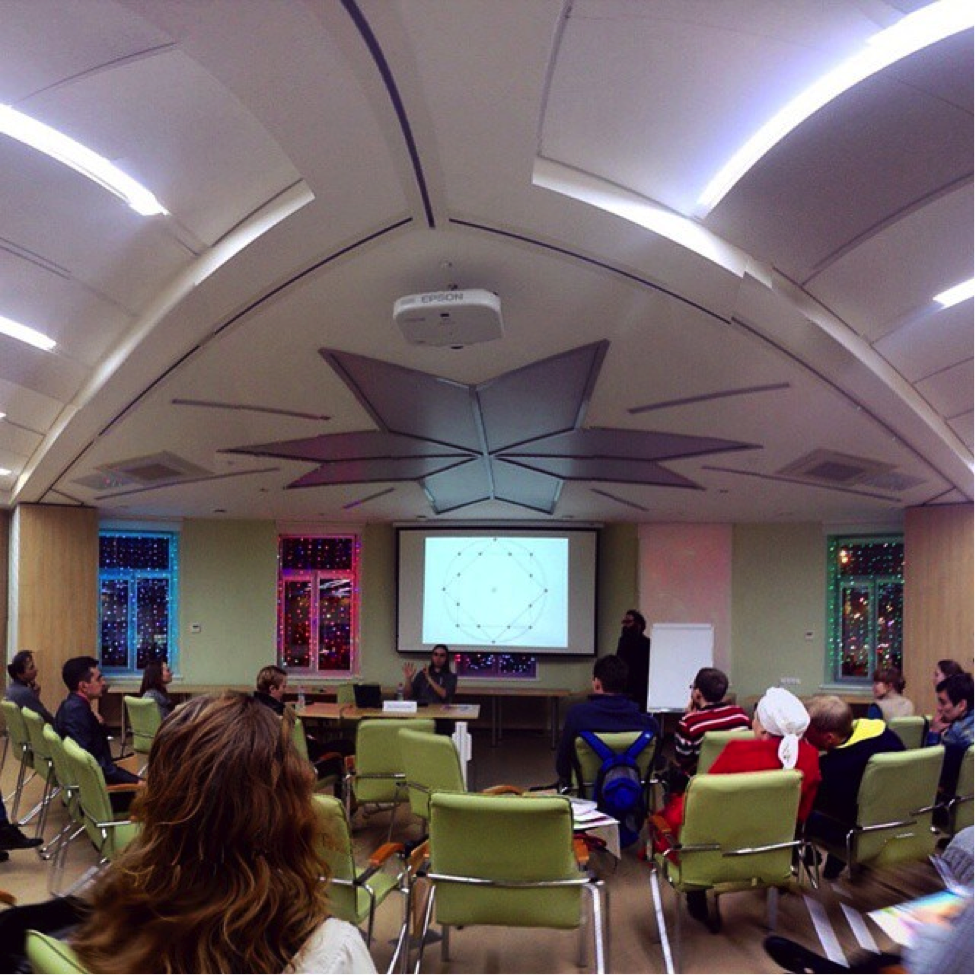 The introductory and concluding remarks at my Thursday workshop (see the previous photo) were given by Lev Gordon, one of the co-founders and visionary leaders of the Association of City Development (ARGO), the member of expert councils in Russian State Duma and the Agency of Strategic Initiatives founded by Russian government, and a Harvard Business School graduate.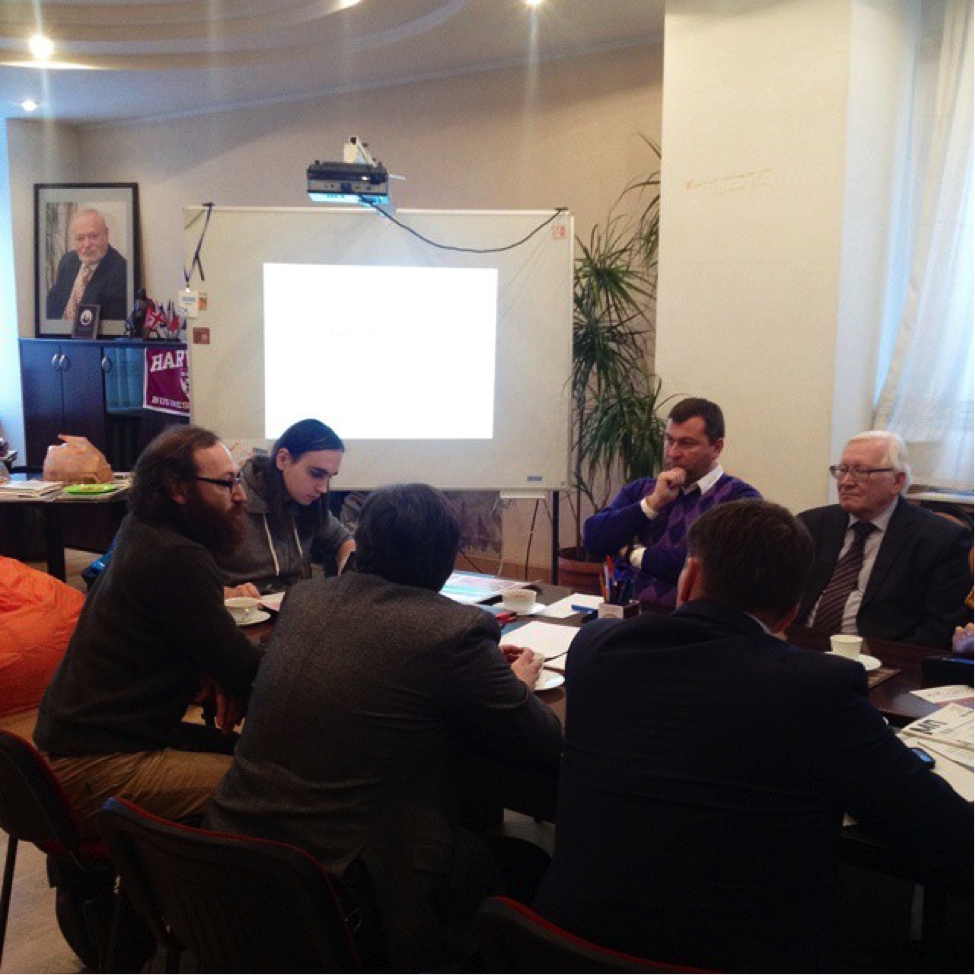 On Friday, together with Lev Gordon I facilitated the dialogical workshop on Integral leadership (based on Ken Wilber's Integral framework and Sergey Kupriyanov's Holoscendence) with the Public Chamber of the city of Izhevsk. In an open and equal discussion we envisioned strategies of how each of us can be in the center of cyclone amidst the transitional times of emergencies and emergence.
The dialogue was super-interesting. The core group of the Public Chamber of Izhevsk truly aspires towards an integral vision of city processes and towards increasing city wellbeing in all quadrants of the AQAL Integral framework.
On Saturday Lev Gordon and I co-facilitated a larger workshop on how to be in the center of cyclone and flow in the rapidly moving waters of the current transitional times. We gave an introduction into the leading paradigms of development of stages and states of consciousness and explained how you can cultivate an Integral AQAL-vision of the world and your own perspectival address in it. In the last hour of the workshop I offered an experiential instruction for a very special method of multidimensional interaction with people and life situations and cultivation of a continuous meditative flow state amidst everyday life. This method was developed to enormous efficiency in Holoscendence, a post-postmodern Integral meta-paradigm of self-growth, psychotherapy and interpersonal communication, founded by Dr. Sergey Kupriyanov (Helsinki, Finland).
The workshop was organized by the Association of City Development of Izhevsk (Argo). It was held in a lecture room kindly provided by the International East European University (Izhevsk). Among the participants there were entrepreneurs, members of the Public Chamber and City Administration of Izhevsk, city activists and cultural leaders of Izhevsk and the Udmurtian Republic.
[On Sunday we] visited an Izhevskian artist and authentic Udmurtian shaman Kuchyran Uri and his colleague Zhon-Zhon Sandyr. Every time I visit Izhevsk I feel the presence of the native Udmurtian spirituality in the people of Izhevsk, no matter what their national identity is. This is one of the tacit but obvious resources of this territory. Kuchyran told us about vibrations of Inner Udmurtia that some of his people feel and that Love is the primal force of the universe that we can experience as powerful feeling of openness and energy. Kuchyran can go into profound trance states and draw wonderful energetically vibrant paintings. This is a crucial part of the landscape of altered states of a city.
At the office of Izhevskian artists-shamans Uri Kuchyran and Zhon-Zhon Sandyr. This is one of Kuchyran's paintings created in a state of shamanic trance: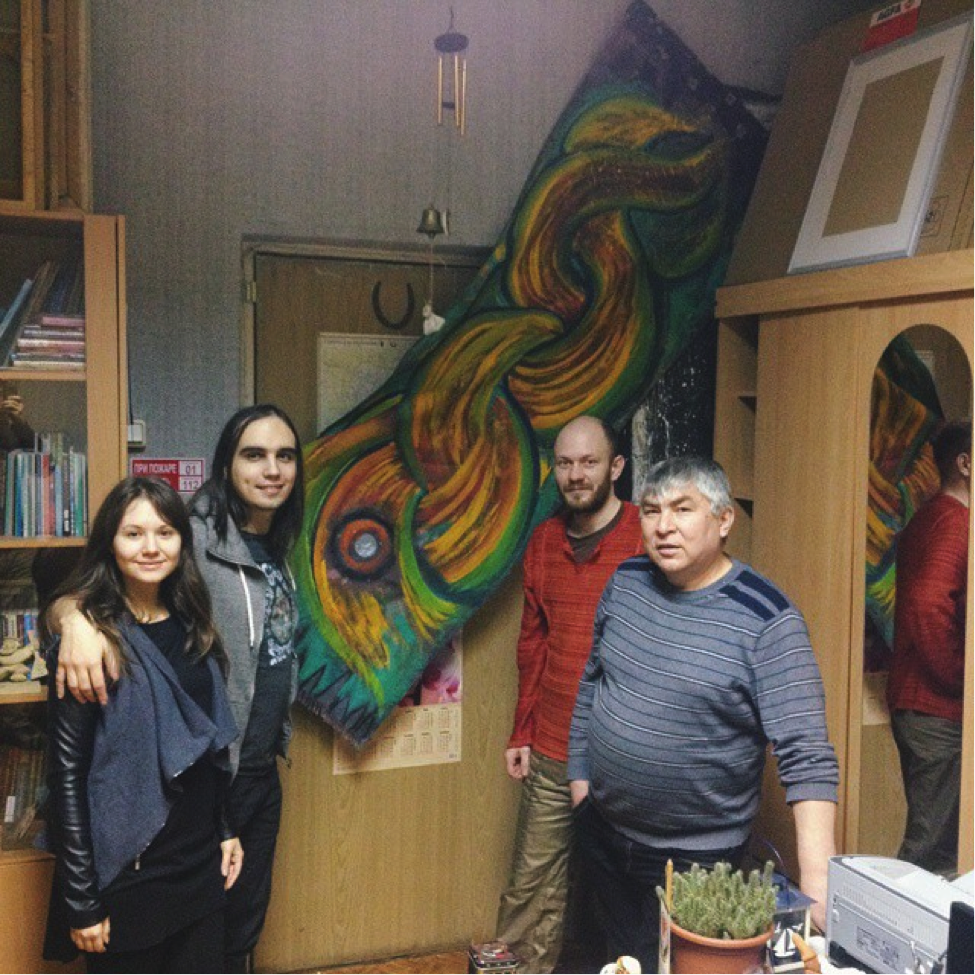 One of Kuchyran's powerful shamanic artworks: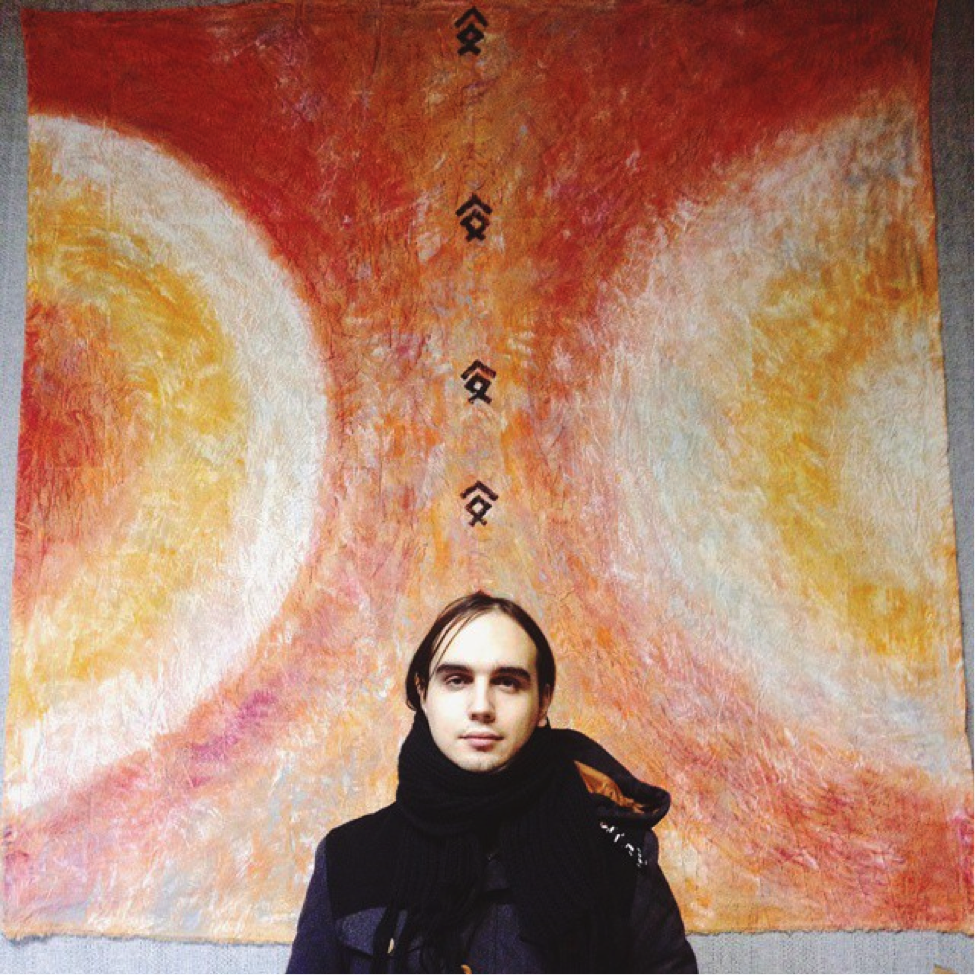 Most photos in the Appendix are by Tatyana Parfenova. During the pair discussion, photo by Viktor Kolchin (ARGO).

About the Author
Eugene Pustoshkin lives in St. Petersburg, Russia. He currently serves as the Chief Editor of Eros & Kosmos (see: http://eroskosmos.org/english), a recently founded Russian online magazine; he is also the Bureau Chief / Associate Editor for Russia at Integral Leadership Review. A few years ago he graduated as clinical psychologist from St. Petersburg State University, and now maintains private practice. He translated several books by Ken Wilber and works of other Integral authors. Since 2014 he's been organizing and co-facilitates (together with Dr. Sergey Kupriyanov) Holoscendence workshops in Russia and other countries.