Donald Sull and Kathleen M. Eisenhardt. Simple Rules: How to Thrive in a Complex World. Boston: Houghton Mifflin Harcourt, 2015.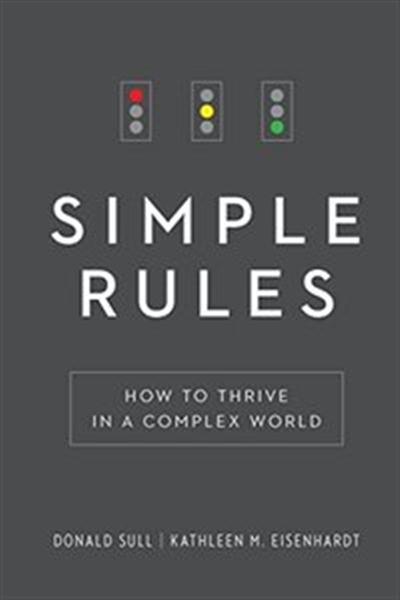 The foundational theme of this book: "Meeting complexity with complexity can create more confusion than it resolves." Stuff interacts in a variety of ways. Complex approaches can overwhelm us. Simple Rules asks, what alternative is there? Use simple rules to tame complexity. The authors offer six types of rules, all of which mutate under changing conditions. They support better decisions and flexibility in the face of complexity and change. They also support effective collective action. They are:
Boundary rules: assistance with choosing between two alternatives or many by narrowing down what to pay attention to;
Priority rules: assistance with sequencing or ranking alternatives, particularly under conditions of scarce resources; and
Stopping rules: assistance with decisions about when to quit.
How-to rules: assistance in choosing actions under conditions of great pressure and time constraints;
Coordination rules: guidance regarding how the "players" in a system interact; and
Timing rules: assistance in deciding when to take action.
The authors build on these categories by offering guidance on how to construct rules in the various categories. These rules are the product of individual and collective dynamics. They are based on experience, values, as well as evidence, and can be the product of negotiations.
Most of the rest of the book are about such rules construction. The authors close with a discussion of breaking the rules. Essentially, this involves paying attention to changing conditions and making adjustments.