Elizabeth Kennedy
The altar stood tall, and stood out in the room.  Simply walking into Bence Ganti's Integral Flow Experience you sense something special is going to happen here.  
Bence uses an altar and ceremony to affect the lower left aspect of the class – and it works beautifully.  Integral Flow experience is truly a four quadrant expression of his 20 years in the field of integral spirituality and personal transformation.
Setting up in the morning before the daylong class, Bence spoke about how the architecture of the room affects people's state experience – as he thoughtfully prepared each aspect, from the positioning of the chairs, to the lighting, to the music, windows, temperature, everything.  Bence noted that this can be the most neglected quadrant when it comes to classes. He pointed out that the having the altar in the room says, "Yes, communion with the Divine in a personal way is welcome," as much as bringing psychological issues or questions about structure stages.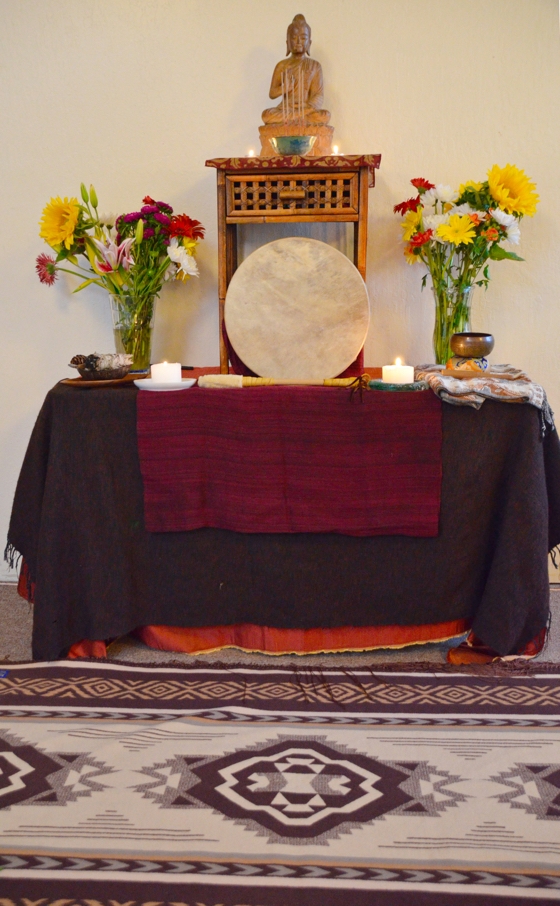 Much of the class is about entering the "flow" state experience, for extended times, in community – in the we-space.  In the first exercise, Bence skillfully brought the room into deep coherence through minimal instruction.  We were guided to listen to "what wants to happen", and encouraged to physically move in the non-verbal space however we felt called, if we felt called to do so.  It was a bit slow at first, but in a short period of time, the entire group was together, in this state.  Participant Michele Elizabeth described it thus: "A shamanistic we-space that was working us all, holding and stretching our dimensions and setting us free."
Through the music, timed bells, and the touch of classmates, discursive mind stopped running the show, and soon we were all connected and flowing as a group, a singular "we".
Truly, the non-verbal experience of letting myself be moved or still in accordance with "what wanted to happen" without thought-directed action, was very satisfying, relaxing, fulfilling. Other participants echoed this, and according to Bence, this is a very common response to his work.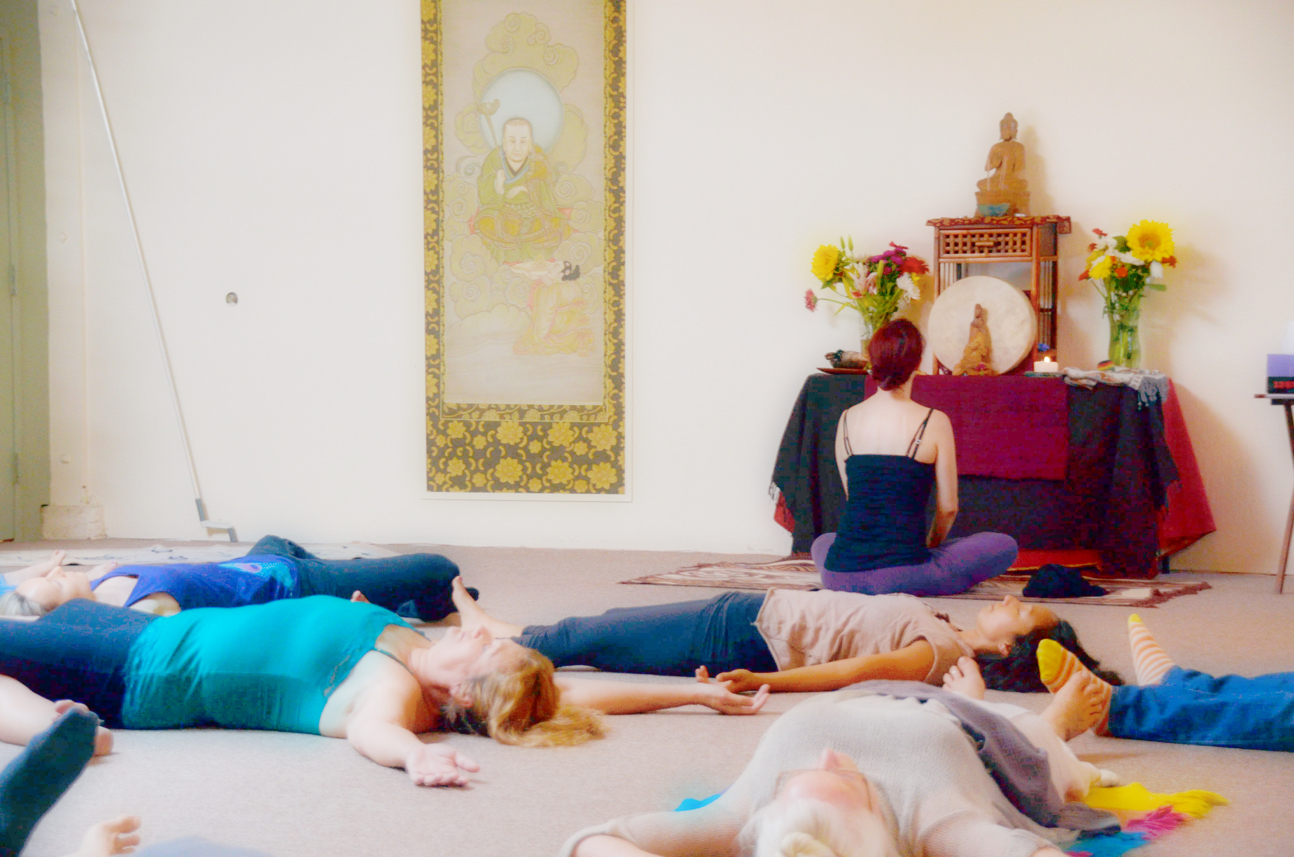 Those moments when I looked up for Bence, there he was quite clearly in the flow with the group, and also watching/noticing everything in the room.  I am quite certain if there were any disturbance in the field, Bence would have been well aware of it.  At various points during the flow, he would interject lessons or instructions or comments as he was moved.  
This type of flow feels timeless.  And it has its own rhythm of waxing and waning.  After an hour or so of communion, the practice slowed to a natural conclusion, which was followed by a break, then sharing and debrief.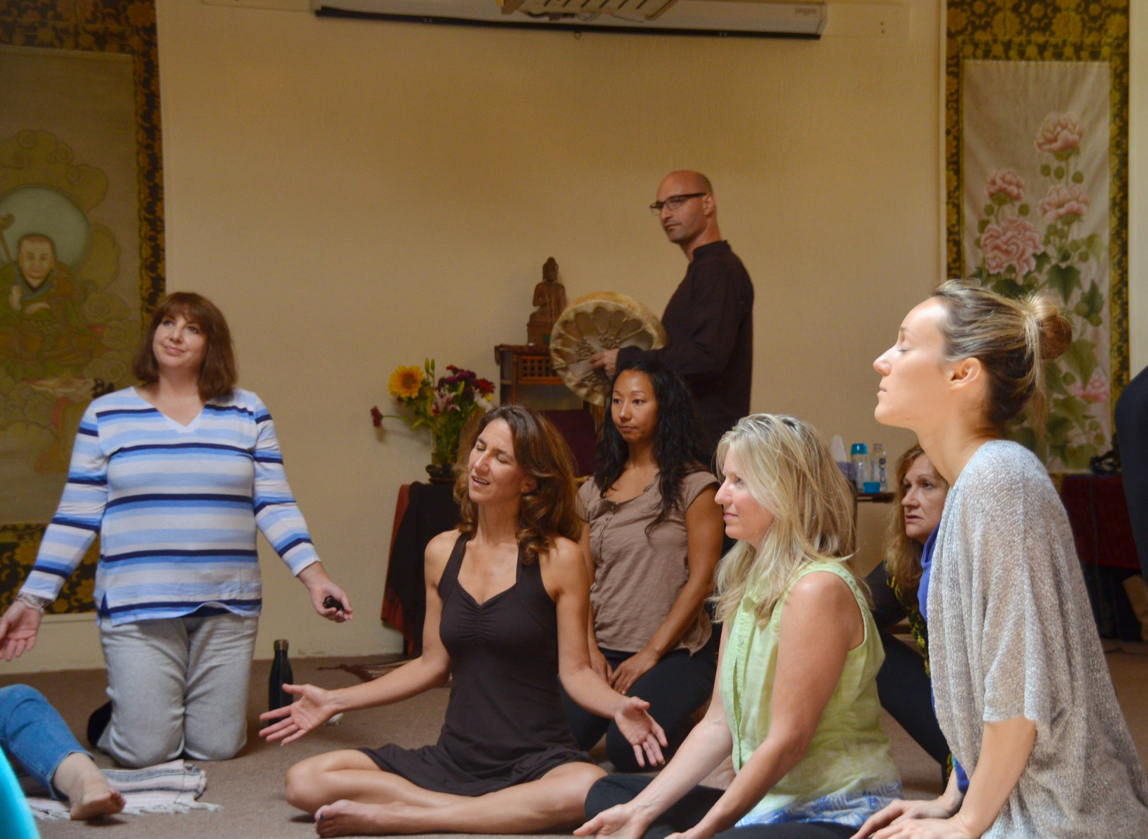 The state experience might (and most often does) bring up questions and/or shadow that are discussed in the debrief, and as necessary, might be worked with as a group, or even one-on-one with Bence, while the group holds space.  
In our class that didn't happen during class time.  However, on a break, three participants were resting in a silent space, a gentle hug, when Bence came over.  His (masculine) presence added to the group field was exactly what was needed to enable one participant to release a deeply held pattern that had arisen during the previous exercise.  She sobbed quietly, her body heaving with release and joy and more, as she felt herself opening to more love in a new way.  It was a very powerful moment.
One participant, Eva Geidt, a psychotherapist from Monterey said, "Transformative and healing flow constellations naturally emerged throughout the day."  This was an interesting aspect of the group flow.  Constellations came, did what they had to do, and then melted away — participants transformed, energy liberated.  The we-space flow enables this uniquely.  The group does its own work when given the opportunity.  
Although in some classes, Bence starts with a powerpoint, discussing his version of the Wilber-Combs lattice (see figure below), he chose not to in this class, instead leaving more time for deepening into the actual flow state as a group. I love the lecture part of his classes, and enjoy hearing his unique insights on Integral Theory, but in this case it worked out well to have more time for the alternative.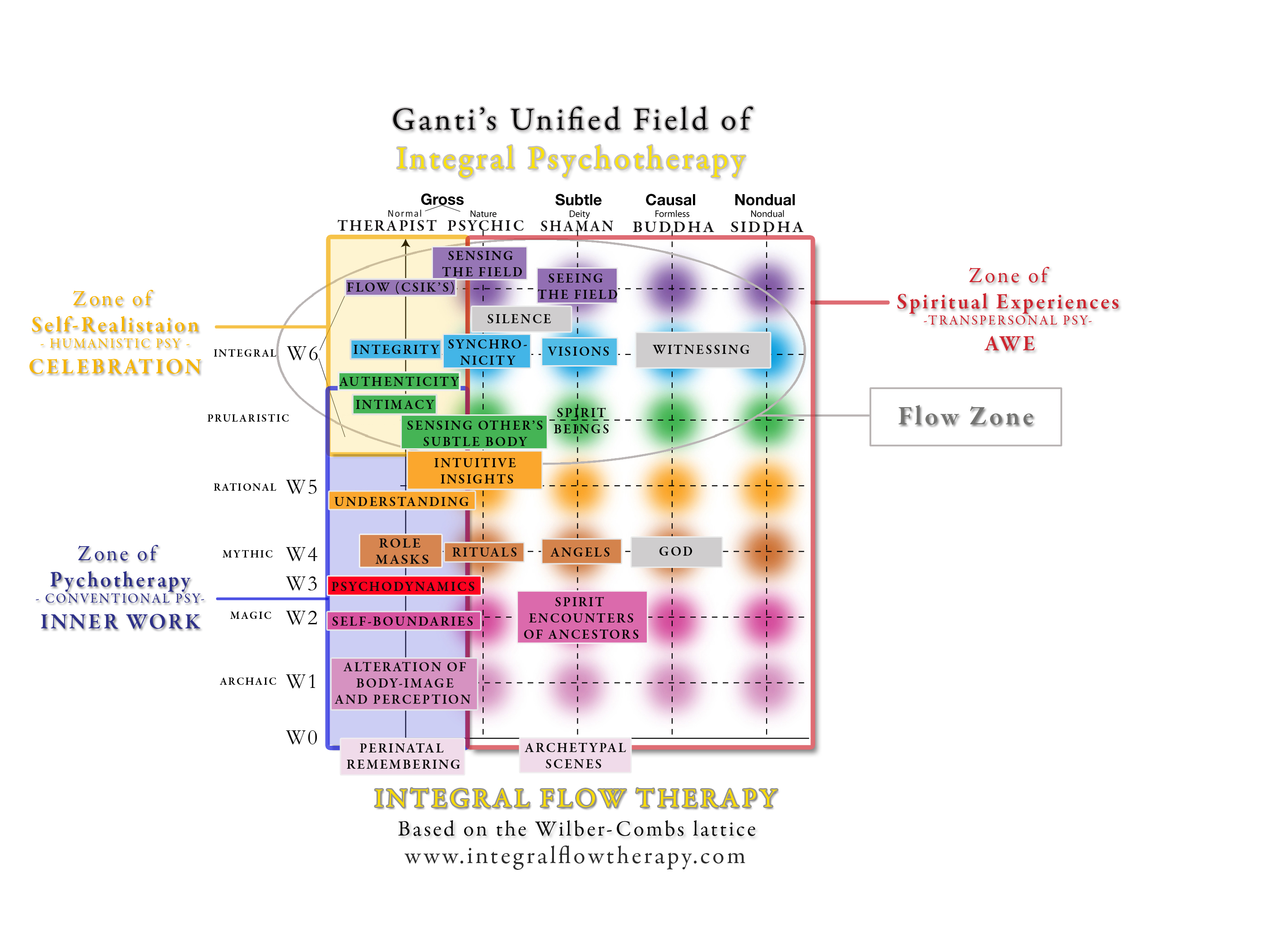 Another participant commented, "[He] brings Integral Theory off the page, out of the head and into the body.  The Integral Flow Experience was a joining together in the transpersonal realm. I found it cathartic and ecstatic. It activated an embodied state of grace." (Raven Nalika Rose, Coach, Los Angeles).
One thing I've noticed over many years of teaching and participating in all types of classes, is that when a teacher/facilitator has a high level of skill and experience, it appears as if the teacher doesn't have to work hard or effort much.  I think that's partially true.  The master teacher leads by example, and listens to each person, as much as what wants to happen in that particular group.  Additionally, there's a subtle transmission of that mastery plus confidence that that teacher exudes which affects the experience of the class. Bence's facilitating is that — natural, easy, clear.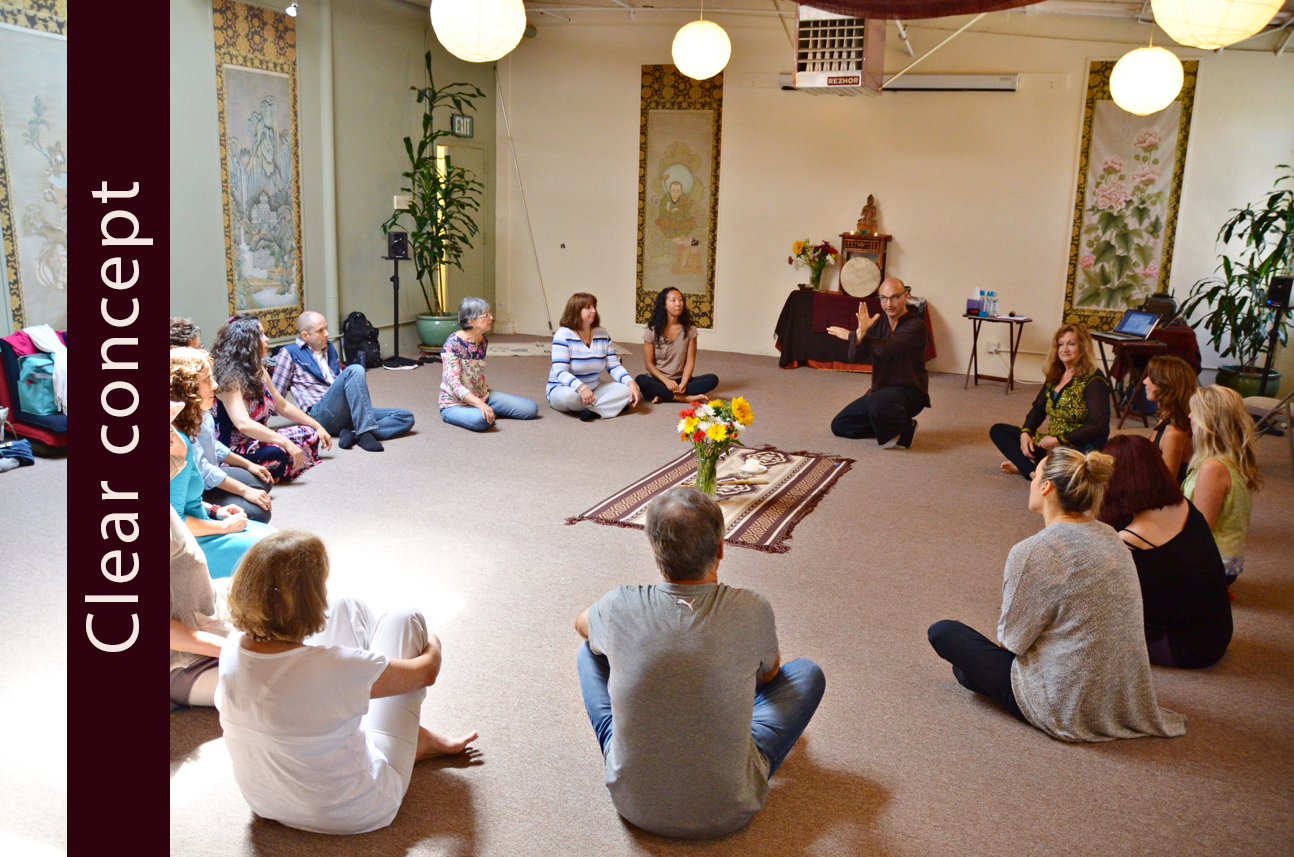 Again, Eva Geidt:  "Bence's combination of compassionate holding and strong aligning of energies made the experience both safe and potent."

After the class, another participant, Adam C., said that he felt the transformation in his body, and "it had to do with will, impulse, action, desire, connection, animal vitality, and moving out of waiting and into doing."
I'm grateful for the opportunity to participate with Bence in his classes.  For Bay Area residents, there will be 2.5 hour evening classes in October, November, and January.  For those who want more, and for out of towners there are plans in the works for a two day weekend event in October, and a five day, Wednesday to Sunday retreat in February.  Having experienced the daylong, I can only begin to imagine the impact of five days of Integral Flow Experience.  
About the Author
Elizabeth Kennedy cares deeply about supporting people to open into their most full expression of wholeness, joy and peace in life.  She is an author, teacher, and intuitive guide.  Elizabeth has worked in diverse fields during her career, including teaching hand-to-hand combat and matchmaking.  She is quite curious about what will show up next and ignite her passion.
Bence Ganti, MA, Director and President, an Integral psychologist who graduated from Wilber's theory in 1999, created in 2006 one of Europe's foremost transformational Integral education systems: the Integral Academy in Hungary. Bence is also co-founder and co-director of  the Integral European Conference and is currently offering Integral Flow Experience workshops, created from his group process, throughout Europe and the U.S.