Mark McCaslin
Recently, I had the pleasure of representing Integral Leadership Review and the School for Advanced Studies, University of Phoenix, at the International Leadership Associations' annual conference.  Being involved as I am with the Integral Leadership Review I am often questioned by the affiliates of the Center for Leadership Studies and Educational Research, the Center I lead, about the purposes and intentions as well as the meaning of integral leadership. These questions set me to considering not only the scope of Integral Leadership but also its place and purpose within the wide domain of leadership studies. With that in mind, I proposed and then presented Integral Leadership, Boundaries, Theories, Practices and Intersections at the conference. Leadership has a distinctiveness surrounding its nature.  This work concerns that nature. Leadership within an integral intention is represented by end values, perennial concepts and conditions concerning human nature as well as human possibilities. This work will explore these values, concepts, and conditions through an examination of the boundaries, theories, practices and intersections of integral leadership.
I was accompanied by a small University of Phoenix delegation with a big research message who presented at this year's International Leadership Association (ILA) 17th Annual Conference, Leading Across Borders and Generations, in Barcelona, Spain, October. 14-17, 2015. We have several reasons to celebrate. First, being in the afterglow spotlight of an international venue has helped each to reach new audiences to share their leadership theories and findings. Second, each has helped share a rigorous research chronicle that University of Phoenix, the Center for Leadership Studies and Educational Research and the School of Advanced Studies, is a welcomed contributor to the scholarly community, and last, each are already thinking about where to take their research findings next!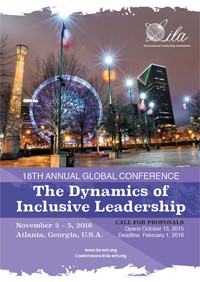 The Dynamics of Inclusive Leadership is the theme for the 18th annual conference for the International Leadership Association to be held in Atlanta Georgia, November 2-5, 2016. The full call for proposals can be found at http://www.ila-net.org/Conferences/2016/index.html.
Just in case you are wondering how your ideas might fit, take a look at the Member Interest Groups of the ILA. Member Interest Groups are organized broadly around field or orientation to leadership. They organize projects and programs, recruit and engage volunteers, advise and work with the ILA staff, promote the call for session proposals and other opportunities, and organize the peer review process for the global conferences. They are as follows:
Business Leadership
A community for corporate leaders and others who direct, consult on, or study leadership development and effectiveness in business settings that creates opportunities to share and reflect on ideas, challenges, trends, and experiences related to a wide variety of sector-specific interests.
Leadership Development
A community for leadership coaches, consultants, human resource managers, program directors, leaders, and other professionals that creates opportunities to connect across sectors to examine best practices, new ideas, and the integration and application of leadership development, theory, and practice.
Leadership Education
A community for educators, professors, and teachers leading curricular or co – curricular programs at primary, secondary, and higher education institutions that creates opportunities to share curricula, pedagogies, programs, and research about teaching and learning.
Leadership Scholarship
A community for seasoned and new scholars and researchers from all disciplines and fields of study that creates opportunities to share research and theories, encourages rigor and relevance, and fosters collaboration.
Public Leadership
A community for those who lead, work with, or study non-profit, social, civic, political, and governmental institutions that creates opportunities to address sector-specific leadership challenges, strategies, research, programs, and solutions.
Youth Leadership
A community for those of all generations who support, develop, or study youth leadership that creates opportunities for cross-generational dialogue about the challenges young leaders face now and in the future.
Finally, the most recent Member Interest Group to form, Doctoral Education Faculty and Leaders Learning Community. The vision for the, Doctoral Education Faculty and Leaders Learning Community is to promote an exchange of ideas between faculty and leaders who work in doctoral programs in leadership. The discussion of these ideas will enhance members' ability to develop stewards of the leadership discipline and subsequently advance leadership at all levels.
As you can see there are many ways, stemming from many facets of membership, to engage your ideas, reports, and research proposals. The deadline for proposals is February 1, 2016 at 11:59 PM EST. Let's start today so that we can develop high quality proposals that will aid in advancing your research as well as your professional life while becoming part of the fastest growing leadership association in the world.
See you in Atlanta!
Mark McCaslin
Senior University Research Chair
Center for Leadership Studies and Educational Research. 
,