Richard Katz and Stephen Murphy-Shigematsu, Eds. Synergy, Healing, and Empowerment: Insights from Cultural Diversity. Calgary: Brush Education, 2012.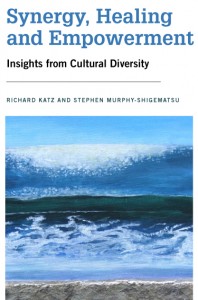 It was the cultural diversity part that drew me to this book. Richard Katz is a scholar who has done research in multiple cultures, while Stephen Murphy-Shigematsu is born of and has varied life experiences in at least two. While their work is represented here, this is an edited volume with the work of several authors.
Here is a taste of the contents, following Katz's introduction:
• Katz and Niti Seth, A Perspective on Western Health Care
• Murphy-Shigematsu, Balancing World Views and Identities in Becoming a Culturally Diverse Counsellor
• Verna St. Denis, Feminism Is for Everybody: Aboriginal Women, Feminism, and Diversity
• Katz, Education as Transformation: An Approach to Training Healers
• Peter Cornish, The Contribution of Synergy to the Experience of Empowerment
• Katz and Murphy-Shigematsu, Will There Always Be Enough? Self-help Groups as a Renewable Healing Resource.
The volume is introduced by an Overview co-authored by Katz, Murphy Shigematsu and Seth. As I began reading, two questions emerged for me in relation to leadership:
Can we learn anything from the material offered here, so much of it grounded in traditional cultures, that would translate into how individuals develop and are prepared to step into leader roles?
Can the concepts of cultural diversity offered here provide useful perspectives that enable us to transcend notions of culture (in relation to leadership) as shared worldviews or values or rituals.
The Overview began by contextualizing this work in relation to social justice and community health. The authors advocate moving away from a scarcity paradigm to one that is based on synergy, "whereby valuable resources become renewable, expanding, and accessible." Participation in systems based on synergy become empowered. Already some parallels with leadership are emerging. I would argue that notions of participatory leadership and its variants, as well as integral leadership that recognizes the importance of individual intentions and behaviors, culture and systems point to an evolution that is supporting the notion of empowerment.
In terms of individual development the collective is of considerable importance in the indigenous cultures Katz has focused on. He states, "Without the need for experts… groups rely on the renewable resource of members willing to talk about their own experience, struggling with the problems they share with other members." I am reminded of Bill George's True North Groups as a valuable developmental experience for leaders.
Cultural diversity is contrasted with multiculturalism with its often assimilationist agenda. Rather it attends to interconnectedness and variable ways of knowing as leading to "the subtle and complex interweaving between individual and community growth." This requires synergy, which in turn requires ways to encourage synergy. Many of the articles in the book are about the complexity in doing this. It attends to individual, the synergies of cultural diversity in one's own background and development, as well as collective dynamics.
A synergist community is characterized as one in which:
1, A valued resource is renewable, expendable and accessible;
2. Mechanisms and attitudes exist which guarantee that the resource is shared equitably among community members;
3. What is good for one is good for all; and
4. The whole is greater than the sum of its parts.
Imagine a world of business and communities organized and conducting themselves individually and collectively according to such principles. Certainly the consciousness in Conscious Business, for example, "seems to bring on a (new) way of experiencing self as embodied in and expressive of community."
In Katz and Seth's chapter on Synergy and Healing, they state,
Education as transformation stresses that character must precede and serve as the context for technical knowledge, and that the healer must be trained to serve the community. The challenge is to integrate a model of education based on traditional principles of oral cultures into the university, as institutions committed to ' modernity' and 'essayist literature.'
We can consider that what is true for the university is also true for other human systems and the acts of leadings required of us to support the role of community and its evolution.
The focus on the individual is demonstrated in the reflective work of Murphy-Shigamatsu in which he considers "the synergistic process and creation of a rich and larger identity from seemingly disparate parts, how I sought to transform the self, and how that shaped a productive counsellor/healer identity." For the purposes of individual development for leader roles we can consider where are the opportunities for synergy among the different aspects of experience and self-understanding. We can place less emphasis on ridding ourselves of psychological or other impairments and discover ways to embrace them in a synergistic evolutionary process of individual development.
This is just the beginning of the potential for finding in this fascinating group of studies many potentials for reconsidering individual and collective performance in relation to leadership.