Nancy Southern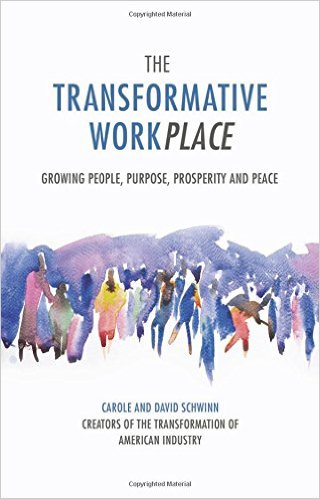 We all are keenly aware of the importance of workplaces in shaping people, culture, and society. Our workplaces can create the conditions to support people in finding meaning in their life and work, engaging with others in ways that create new patterns of behavior that extend to cultural change within organizations and ultimately impact the evolution of societies toward greater sustainability, peace, and fulfillment.
The guiding belief held by Carole and David Schwinn is that "a commitment to expanding the consciousness of people enlarges the purpose of the organization, leads to its prosperity, and ultimately, creates greater possibilities of a more peaceful world for all." Thus the guiding question for this book is "How might the places where we work – in addition to being places where we accomplish the goals and purposes of the enterprise –also be the places where we become more and more of who we are meant to be as human beings?"
The books takes the reader on a journey to workplaces around the world highlighting examples where leaders are shaping new organizational cultures that are transformative for people, communities, and the larger society. The authors integrate theories and practices that have evolved over the past decades and support the movement to transform organizations. Through reflection on what they learned during a research sabbatical where they visited 13 countries on 4 continents in search of more conscious leaders, they make suggestions to those seeking to create transformative work in their lives.
I had a wonderful conversation with Carole and David and learned how their inspiration for this book dated back to their work in the 1980s and 90s with W. Edwards Deming in supporting organizations and communities in adopting Total Quality Management. That work evolved into work with Peter Senge, Russell Ackoff and Jamshid Gharajedaghi to support systems redesign work with other organizations and communities. They were also influenced by work with Meg Wheatley, Peter Block, Peter Senge and others including work they have done supporting communities and organizations nationally and internationally seeking to contribute to creating a better world. Ken Wilbur's Integral Theory has been instrumental in creating a framework for their work in leadership development and change.
Carole and David's work resonates deeply with me as it acknowledges the importance of our way of being in our work and in the world. The influence of my study of hermeneutics led me to recognize the importance of Being in Care to creating the conditions for transformative learning and change. In my view, Being in Care requires our ability to encounter and learn from "the other" as a way to open our hearts and minds to a full understanding of our interconnected nature of being with all life on earth. Carole and David speak about the importance of a "breakthrough to another way of being together in the world" requiring a higher level of consciousness, much in the same vein as Robert Kegan describes the 5th Order Consciousness or Self-Transforming Mind, where interdependent meaning-making creates an opportunity to shift individual and collective mental models and thus ways of being in the world. Their integration of stories from cultures around the world enhances our encounter with different perspectives and ways of being and expands the opportunity for our own transformative learning.
The book is divided into three sections: Selfness; Otherness; and Wholeness. Selfness focuses on inner development and provides stories from organizations and their leaders in India, Cambodia, Costa Rica, and South Africa. The stories show aspects of leaders' lives and experiences that supported their self-development and motivated them to create opportunities for others through the chapters on Meeting Basic Needs, Challenging Assumptions, Attending to Well-Being, and Acting Autonomously. Otherness focuses on how we develop our sense of self in relation to others beyond our circle of friends and family in a way that drives us to act in support of meeting the needs of others as well as our own. Stories of the work of the Brahma Kumaris (BK) World Spiritual University, Norwegian knitwear maker Oleana, Costa Rica airline Nature Air, and Syngenta India inspire and inform us on the integral nature of learning and working in a way that creates the conditions for transformative change at the individual, organizational, community and societal levels. These stories support the chapter themes of Practicing Inner Reflection, Appreciating Beauty, Engaging Meaningful Work and Manifesting Intention. I was particularly inspired by the chapter on Appreciating Beauty and the importance of that beauty, as the authors espouse, to inspire "us to tap into our own creative capacities, and moves us to continually reach for unattainable perfection in what we do. At the same time it provides deep satisfaction in simply being present to what is." The third section, Wholeness, includes stories that show how expanding consciousness leads to a more sustainable and peaceful way of living and being. The chapters Giving Back, Embracing the Whole, and Being Peace draw from stories of the Tata Group, the Greenhouse Project, and the Rasur Foundation International and how their leaders' put into practice their commitment to meeting the needs of humanity and natural world.
What is precious about this book is the way in which the author's share the stories of leaders who have evolved in their awareness and actions and how they bring their organizations to a higher level of consciousness enabling the collective spirit to shine through meaningful work. Carole and David believe that "somewhere between "living to work" and working to live" there is room for work that transforms us as we transform it, where we can grow lives of purpose and passion, where all people may prosper, and where we can contribute to a better and more peaceful world".   This book is an insightful read for anyone wanting to take their work to a more meaningful level, for leaders and change agents who are working to transform organizations, and for educators who want to inspire the next generation to seek meaningful work that will enable them to make a difference in this complex world.
David and Carole Schwinn have worked together for over thirty years, providing consulting in continuous improvement, systems design, and organization/ community development. Their work has taken them all over the world, including travels to fourteen countries on four continents while conducting dozens of interviews for their 2015 book, The Transformative Workplace: Growing People, Purpose, Prosperity and Peace. David is a Professor of Management at Lansing Community College, while Carole is a full-time writer and blogger.
You can find out more about this book and the work of Carole and David at http://www.transformunltd.com/
About the Author
Nancy Southern, Ed.D served as executive faculty member at Saybrook University for over 10 years chairing the MA and PhD programs in Organizational Systems and the School of Organizational Leadership and Transformation. She now teaches part time and supports organizations in creating cultures of collaboration in public, private, and non-profit organizations and local communities. She works with senior and mid-managers to build their capacity to engage in meaningful conversations, appreciative and critical inquiry to create the organizational changes they desire. She has written numerous articles that reflect her inquiry and work into creating conditions for transformative learning and change. Her website is www.collaborativecultures.com.