Robert E. Kaplan and Robert B. Kaiser. Fear Your Strengths. San Francisco: Berrett-Koehler, 2013.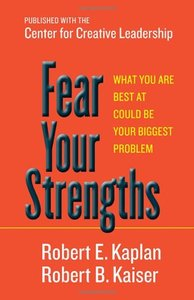 This 100-page volume proposes that overusing our strengths gets us in trouble in relationships and leader roles. It also promotes the authors' Leadership Versatility Index assessment. Developing individuals for leader roles is not so much about addressing weaknesses as it is about effectively managing strengths. This begins with acceptance and integration of feedback such as provided by their 360 assessment. Failure to do so results in "lopsided leadership." Individuals who fail among those who are five times more likely to do so because of overusing strengths.
Replete with examples from their executive coaching work, the authors offer a yin-yang perspective of the competencies individuals need to lead effectively. Strategic and operational are at ends of a continuum, as are forceful and enabling. Based on that idea their assessment feedback shows up as positions within a four cell matrix representing multiple competencies. For many people this leads to connecting the dots to see what is the nature of feedback and where are the imbalances – how is their performance lopsided.
The link between who we are and how we lead is strong. Consequently, development of individuals for leader roles is grounded in the integration of practices, some of which are spelled out here, into one's daily life and performance. This is a very important point. Those delivering leader and leadership development training have historically focused on the delivery of concepts and tools with very little attention to the integration of practices that support effective performance. The emphasis is on building with discipline, routine and regimen.
I was struck by this notion: "Lopsided leaders waste inordinate amounts of energy on self-concern" and ego gratification. The emphasis on heroic leadership, for example, can lead to investing great amounts of energy in one's heroic leader image. This, like so many other lopsided approaches, is driven by subconscious material, the tyranny of the shoulds, that can be addressed with Robert Kegan and Lisa Leahy's techniques for addressing deeply held assumptions
Their database of assessment results for 7000 executives show that only ten per cent qualify as versatile. This finding, along with the yin-yang perspective and the emphasis on practice qualify their work for me as being on a path to integral. This would be a good book to share with clients.